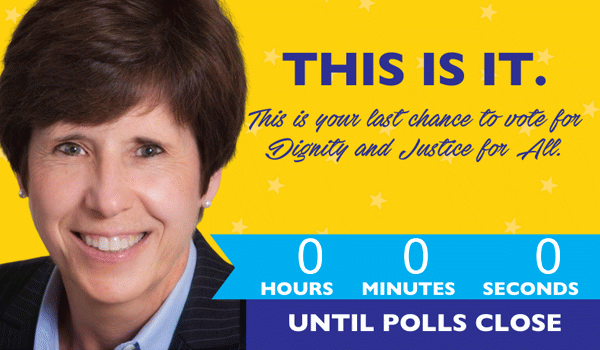 This is it. This is our time to restore our voice and values in Washington. It's our time to send Jackie home once and for all.
Our data shows that Pat has been leading through early voting, but Jackie is catching up. This race is going to be tight, but we can win this. The numbers are there, we just need them at the polls.
If you've been holding on to your ballot, you have until noon to deliver it to your county clerk's office.

Polls close at 6 p.m. local time. It's not too late to make your vote plan. It's not too late to make your voice heard. If you need help finding your polling location, visit vote.org.

If you run into any trouble at the polls, call the Indiana voter hotline at 866-IN1-VOTE (866-461-8683). 
This is no ordinary time, and this is no ordinary election. We must take action if we want to see change. So much is riding on your vote: Health care, education, the economy, and Dignity and Justice for All. 
Let's win this together.

Team Hackett
County Clerks Information
Elkhart
Phone Number: (574) 535-6471
Address: 101 N Main Street #204, Goshen, IN 46526
Fulton
Phone Number: (574) 223-7713
Address: 815 Main Street #206, Rochester, IN 46975
Kosciusko
Phone Number: (574) 372-2331
Address: 121 N Lake Street, Warsaw, IN 46580
La Porte
Phone Number: (219) 326-6808
Address: 813 Lincolnway Suite 105, La Porte, IN 46350
Marshall
Phone Number: (574) 935-8713
Address: 211 W Madison Street, Plymouth, IN 46563
Miami
Phone Number: (765) 472-3901
Address: 25 N Broadway, Peru, IN 46970
Pulaski
Phone Number: (574) 946-3451
Address: 112 E Main Street Room 230, Winamac, IN 46996
Starke
Phone Number: (574) 772-9128
Address: 53 E Washington Street, Knox, IN 46534
St. Joseph
Phone Number: (574) 235-9635
Address: 101 S Main Street (Basement of Court House), South Bend, IN 46601
Wabash
Phone Number: (260) 563-0661
Address: 69 W Hill Street, Wabash, IN 46992